How to configure Master-Slave MySQL Replication on CentOS/RHEL 5/6/7
MySQL replication is a procedure that permits you to easily keep up multiple copies of a MySQL data by having them replicated consequently from an master to a slave database. This can helpful for some reasons including facilitating a backup for the data, a way to analyze it without utilizing the main database.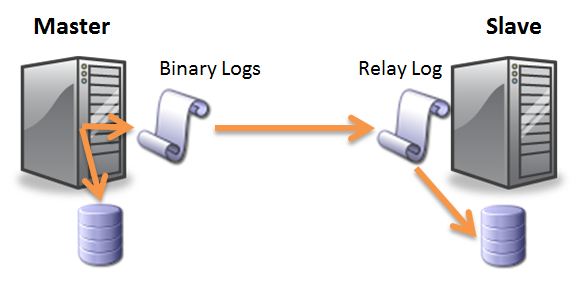 MySQL replication for the most part comprises of three-section process:
The master server records all data changes to its binary logs and send it to the slave using a thread called Binlog dump thread once the slave connects to the master.
The slave copies the binary log events sent by the master's binlog dump thread to its relay logs using a thread called Slave I/O thread.
The slave applies these changes from the relay logs to its data by replaying (executing) all events using a thread called Slave SQL thread.
Server Details:
Master Server: 192.168.10.4
Slave Server: 192.168.10.50
Database Name: techoism
Basic Configuration:
Install below repository on Master and Slave server:

# rpm -Uvh http://download.fedoraproject.org/pub/epel/6/x86_64/epel-release-6-8.noarch.rpm
# rpm -Uvh http://rpms.famillecollet.com/enterprise/remi-release-6.rpm


Disabled selinux from Master and Slave server (If it is in Enforcing or Permissive mode)

# vim /etc/selinux/config
OR
# vim /etc/sysconfig/selinux


SELINUX=disabled


After disabled the selinux reboot both the server.
Comment old_passwords line from both database server (If It is not commented)

# vim /etc/my.cnf


# old_passwords=1


Restart MySQL from both server so that configuration changes take place:

For CentOS/RHEL 5/6:
# /etc/init.d/mysql restart
For CentOS/RHEL 7:
# systemctl restart mysqld


Install php mysql module using below command:

# yum install php-mysql --enablerepo=remi


Restart Apache Service from both server so that changes will reflect:

For CentOS/RHEL 5/6:
# /etc/init.d/httpd restart
For CentOS/RHEL 7:
# systemctl restart httpd


Master Server Configuration:

Create new mysql user and provide Grant privileges to that user to access the database.

mysql> CREATE USER 'new_user'@'%' IDENTIFIED BY 'secretpassword';
mysql> GRANT ALL PRIVILEGES ON techoism.* TO 'username'@'%' WITH GRANT OPTION;
mysql> FLUSH PRIVILEGES


Check mysql connectivity with Slave server

# telnet slave_server_ip 3306


Start iptables service (if connectivity with server will fail)

For CentOS/RHEL 5/6
# /etc/init.d/iptables stop
For CentOS/RHEL 7
# systemctl stop firewalld


Add the following variables to the MySQL configuration file

# vim /etc/my.cnf


[mysqld]
log-bin=mysql-bin
binlog-do-db=techoism
server-id=1
innodb_flush_log_at_trx_commit=1
sync_binlog=1


Run below command to configure replication:

mysql>GRANT REPLICATION SLAVE ON techoism.* TO 'new_user'@'192.168.10.50' IDENTIFIED BY 'secretpassword';
mysql>FLUSH PRIVILEGES;
mysql> use techoism;
mysql> FLUSH TABLES WITH READ LOCK;
mysql> exit;


Restart MySQL so that configuration changes take place:

For CentOS/RHEL 5/6:
# /etc/init.d/mysql restart
For CentOS/RHEL 7:
# systemctl restart mysqld


Check Master Status using following command.

mysql> SHOW MASTER STATUS\G


+------------------+----------+--------------+------------------+
| File             | Position | Binlog_Do_DB | Binlog_Ignore_DB |
+------------------+----------+--------------+------------------+
| mysql-bin.000002 |      107 | techoism     |                  |
+------------------+----------+--------------+------------------+


Take a full backup from the master's database:

# mysqldump -u username -p techoism > techoism.sql


Note: If we want to take dump without triggers then use below command

# mysqldump -u username -p --skip-triggers techoism > techoism.sql


Unlock database tables:

mysql> UNLOCK TABLES;


Copy database on slave

# scp techoism.sql root@slave_server_ip:/home/


Slave Server Configuration:

Check connectivity with master server

# telnet server_ip 3306


Start iptables service (if connectivity with server will fail)

For CentOS/RHEL 5/6
# /etc/init.d/iptables stop
For CentOS/RHEL 7
# systemctl stop firewalld


Add the following variables to the MySQL Configuration file:

 # vim /etc/my.cnf


[mysqld]
server-id=2
replicate-do-db=techoism


Restart Mysql Service

For CentOS/RHEL 5/6
# /etc/init.d/mysqld restart
For CentOS/RHEL 7
# systemctl restart mysqld


Create new database and restore database using below steps:

# mysql -u root -p -e "create database techoism"
# cd /home
# mysql -u root -p techoism < techoism.sql


Run below command to configure replication

# CHANGE MASTER TO MASTER_HOST='192.166.10.4',
>MASTER_USER='repl_50',
>MASTER_PASSWORD='secretpassword',
>MASTER_LOG_FILE='mysql-bin.000002',
>MASTER_LOG_POS=107;


Start Slave

mysql> SLAVE START;


Check status of slave

mysql> show slave status\G


*************************** 1. row ***************************
               Slave_IO_State:
                  Master_Host: 192.168.1.150
                  Master_User: new_user
                  Master_Port: 3306
                Connect_Retry: 60
              Master_Log_File: mysql-bin.000002
          Read_Master_Log_Pos: 107
               Relay_Log_File: mysqld-relay-bin.000001
                Relay_Log_Pos: 4
        Relay_Master_Log_File: mysql-bin.000002
             Slave_IO_Running: No
            Slave_SQL_Running: No
              Replicate_Do_DB: techoism
          Replicate_Ignore_DB:
           Replicate_Do_Table:
       Replicate_Ignore_Table:
      Replicate_Wild_Do_Table:
  Replicate_Wild_Ignore_Table:
                   Last_Errno: 0
                   Last_Error:
                 Skip_Counter: 0
          Exec_Master_Log_Pos: 107
              Relay_Log_Space: 107
              Until_Condition: None
               Until_Log_File:
                Until_Log_Pos: 0
           Master_SSL_Allowed: No
           Master_SSL_CA_File:
           Master_SSL_CA_Path:
              Master_SSL_Cert:
            Master_SSL_Cipher:
               Master_SSL_Key:
        Seconds_Behind_Master: NULL
Master_SSL_Verify_Server_Cert: No
                Last_IO_Errno: 0
                Last_IO_Error:
               Last_SQL_Errno: 0
               Last_SQL_Error:
  Replicate_Ignore_Server_Ids:
             Master_Server_Id: 1
1 row in set (0.00 sec)
# mysql>