Red Hat 8 Beta Installation with Screenshot
RHEL 8 Beta version got released on Nov 14, 2018 and Beta version is available for developers. This release came after IBM acquired Red Hat for $34 billion on October 28, 2018.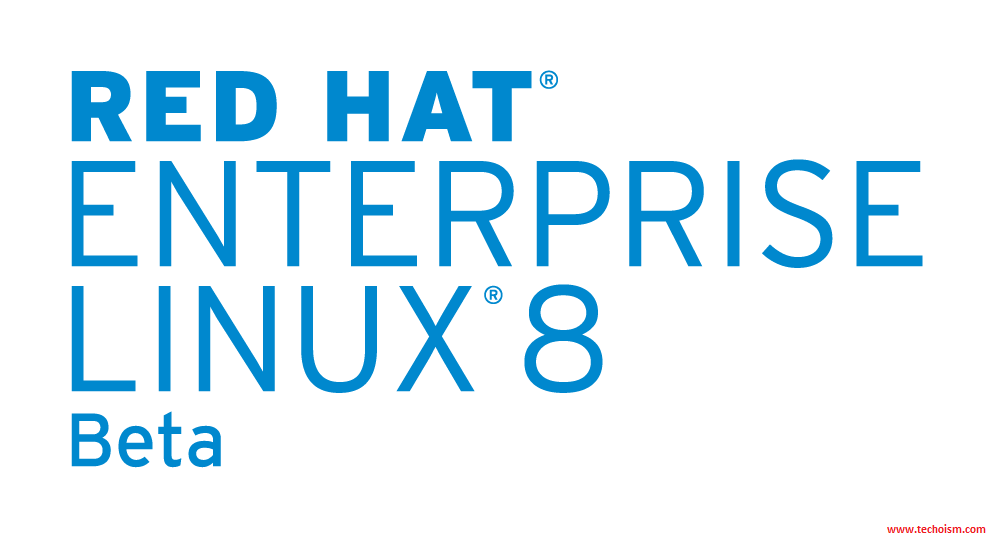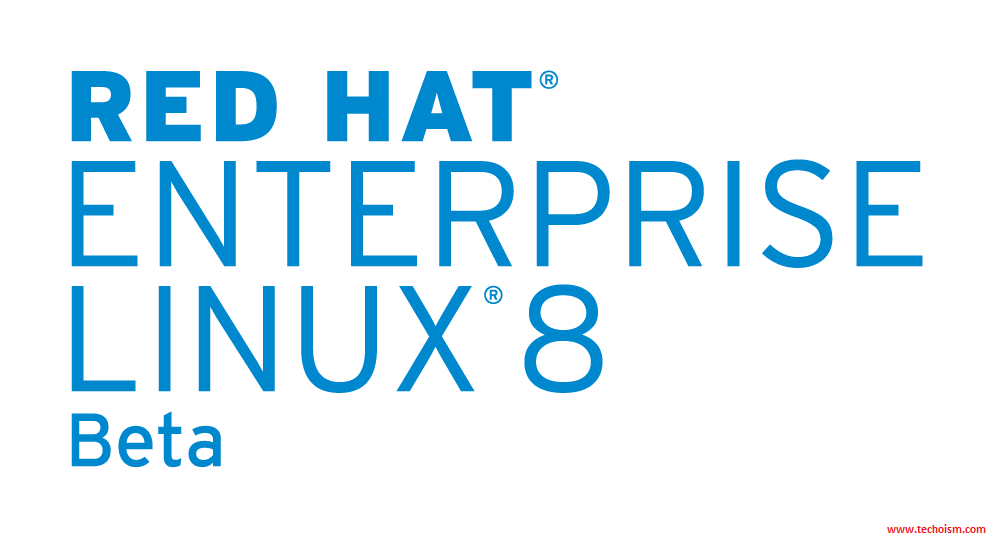 See Also:
RHEL 8 Features:
Few software versions available with RHEL 8 are Python 3.6, Nginx 1.14, Apache 2.4.35, PHP 7.2, Ruby 2.5, Perl 5.26 and Databases like MariaDB 10.3, MySQL 8.0, PostgreSQL 10, PostgreSQL 9.6, and Redis 4.0
Now XFS file system is supporting a shared copy on write data extents functionality.
The cockpit is available in RHEL 8 default repos. Cockpit is a web-based tool used by the system administrator to manage servers.
Desktop will use Wayland as default display server.
Stratis is new volume management tool which allows you to easily perform complex storage tasks and manage your storage stack using unified interface.
Firewalld now uses nftables as default backend.
OpenLDAP is no more available.
Supports up to 4PB of physical memory.
nobody user replaced by nfsnobody.
There is pre-enabled repository available in RHEL 8 for Application Stream (AppStream) which provides many developers tools.
Composer is available in RHEL 8 which helps to deploy custom images in the cloud.
RHEL 8 now comes with qemu–kvm v2.12.
Red Hat Developers Subscription (no-cost subscription):
Download Red Hat Enterprise Linux 8 Beta
Red Hat Customer Subscription:
Download Red Hat Enterprise Linux 8 Beta
Installation of RHEL 8
If you have installed previous version of Linux then you will be very familiar with the installation and you would not find any difficulty in installing RHEL 8. When the first screen appears then directly proceed with the install.
Red Hat 8 Starting Installer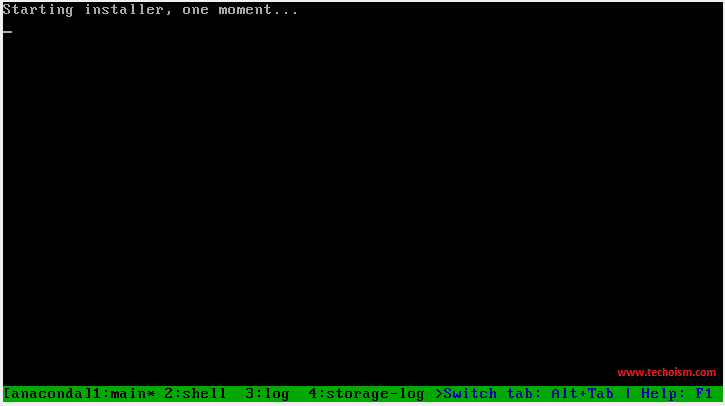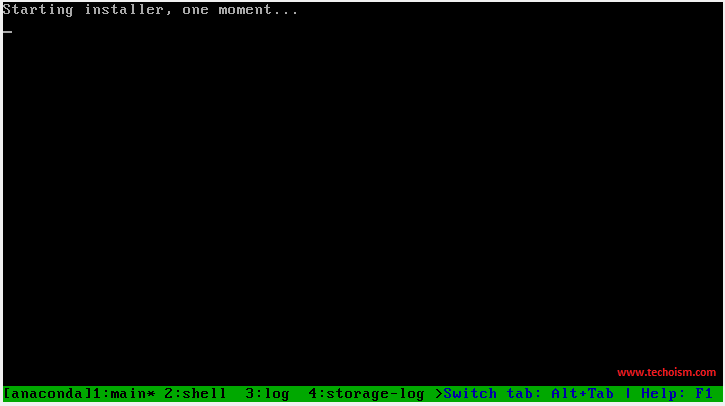 In next screen It will ask you to choose the preferred language.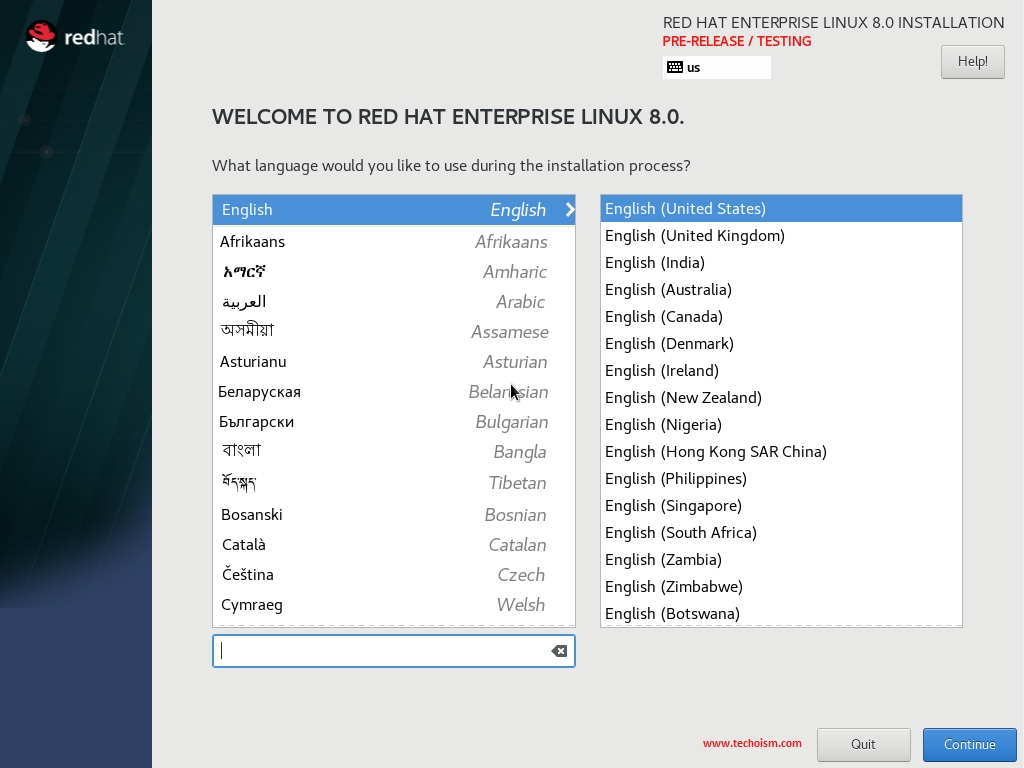 Next step is the installation summary, that allows you to choose between the following options:
Localization
Software
System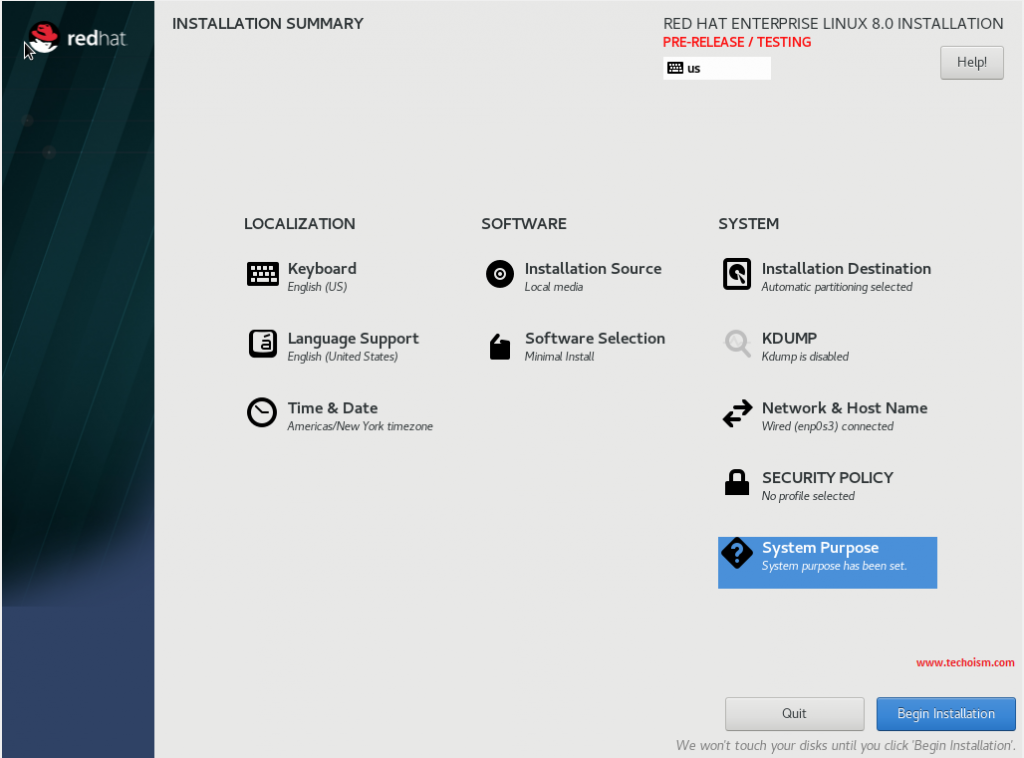 Proceed with the "System" section. There you will be able to select your installation destination.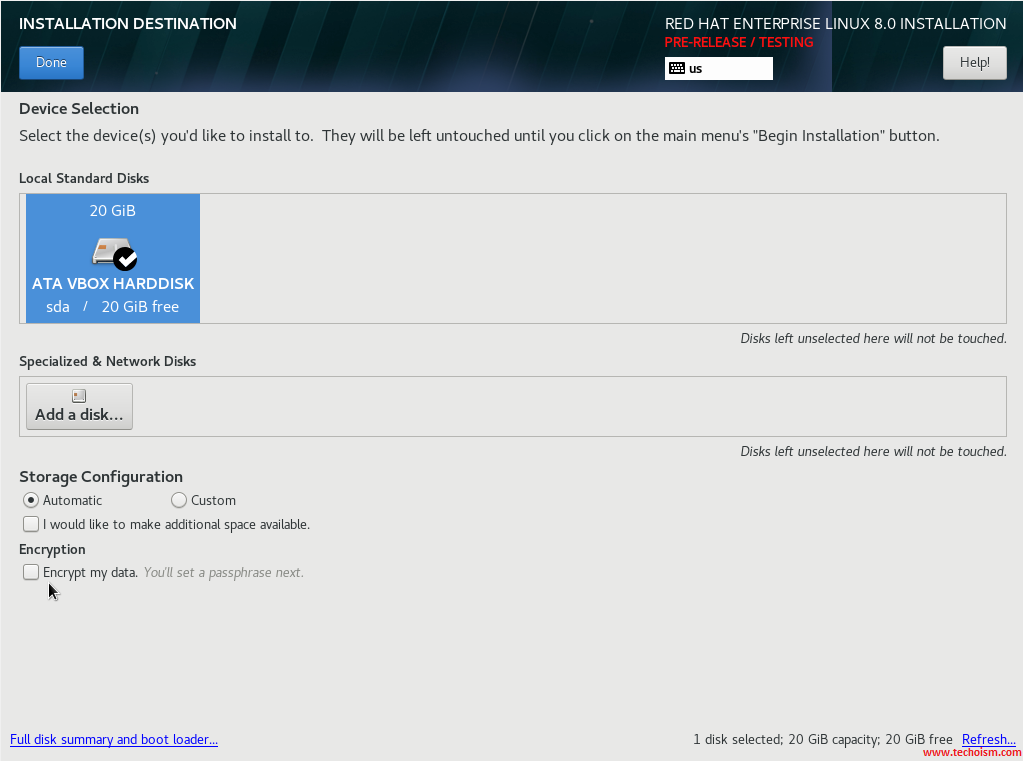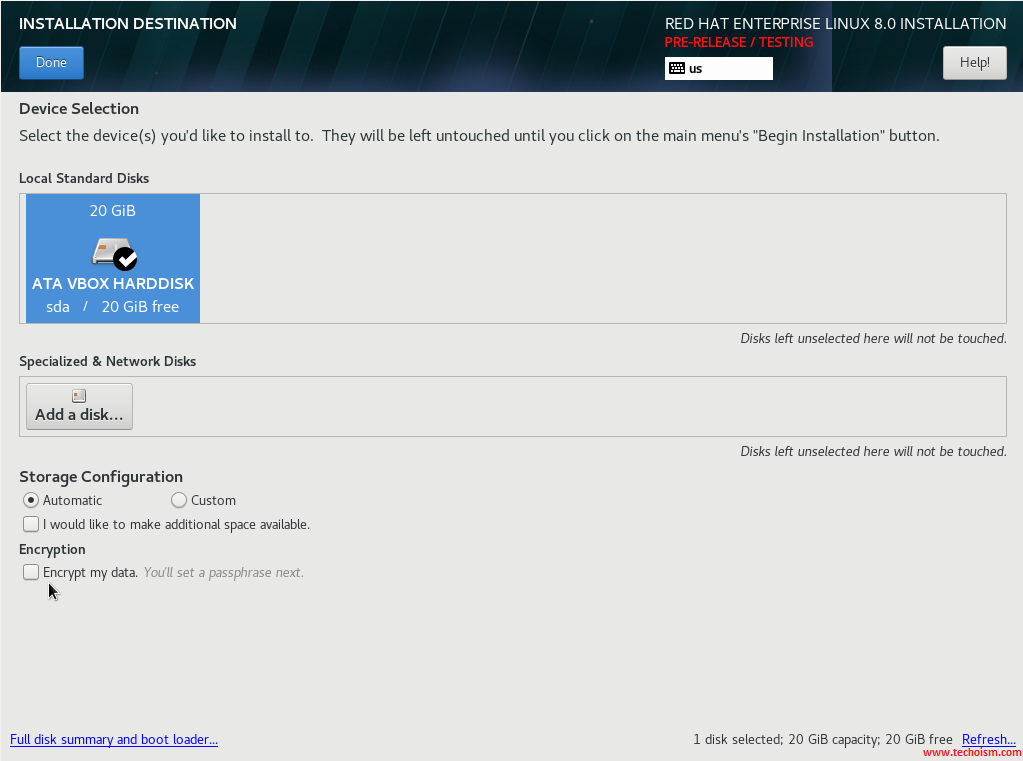 In the network section, you can modify the system hostname and NIC infomation.
If you want to select your system purpose then you can modify and all these changes are optional.
You can configure the keyboard language, language support and date and time zone on your system.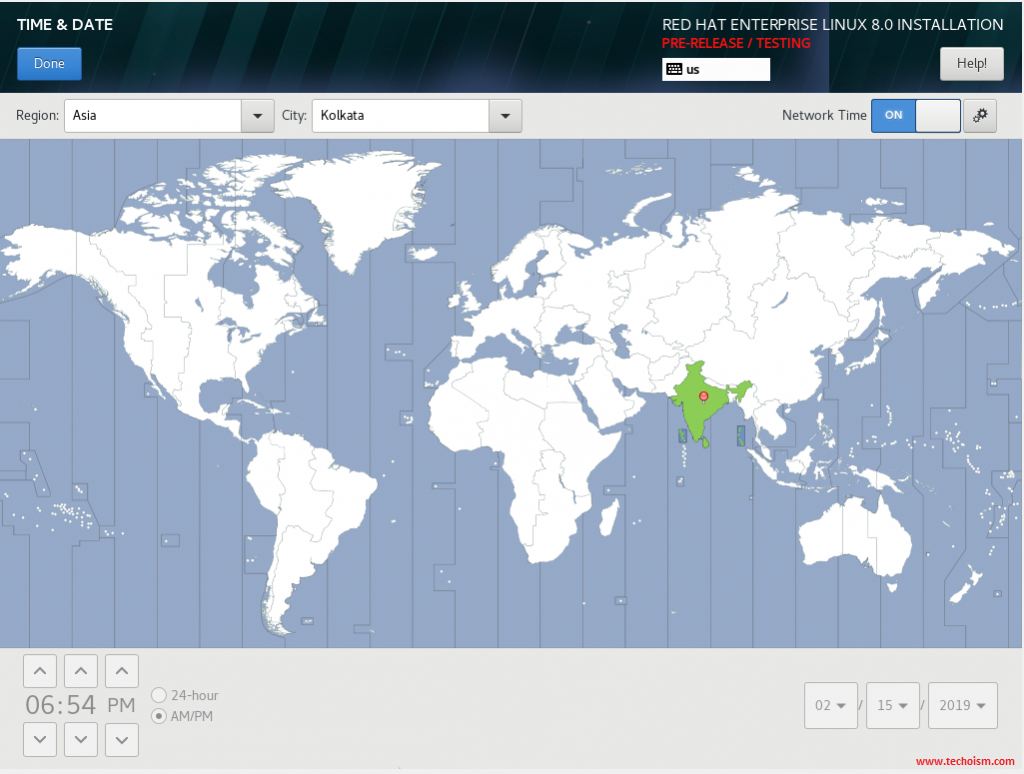 In the software section you can choose what software to install, as per your requirement you can select the software package. You can choose any one of predefined options:
Minimal install
Custom operating system
Server
Workstation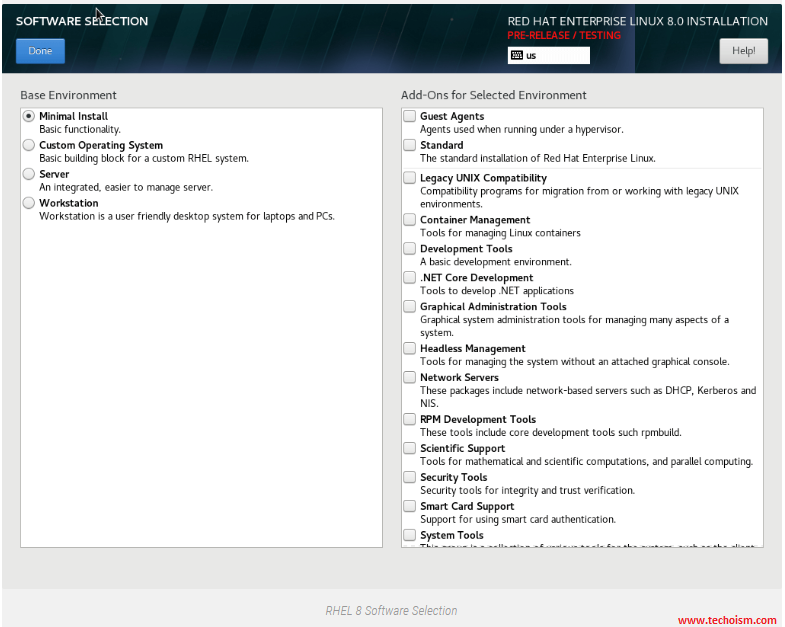 After selecting all the option click on Begin installation to start the installation.
Set the root password and create the user if you want to create.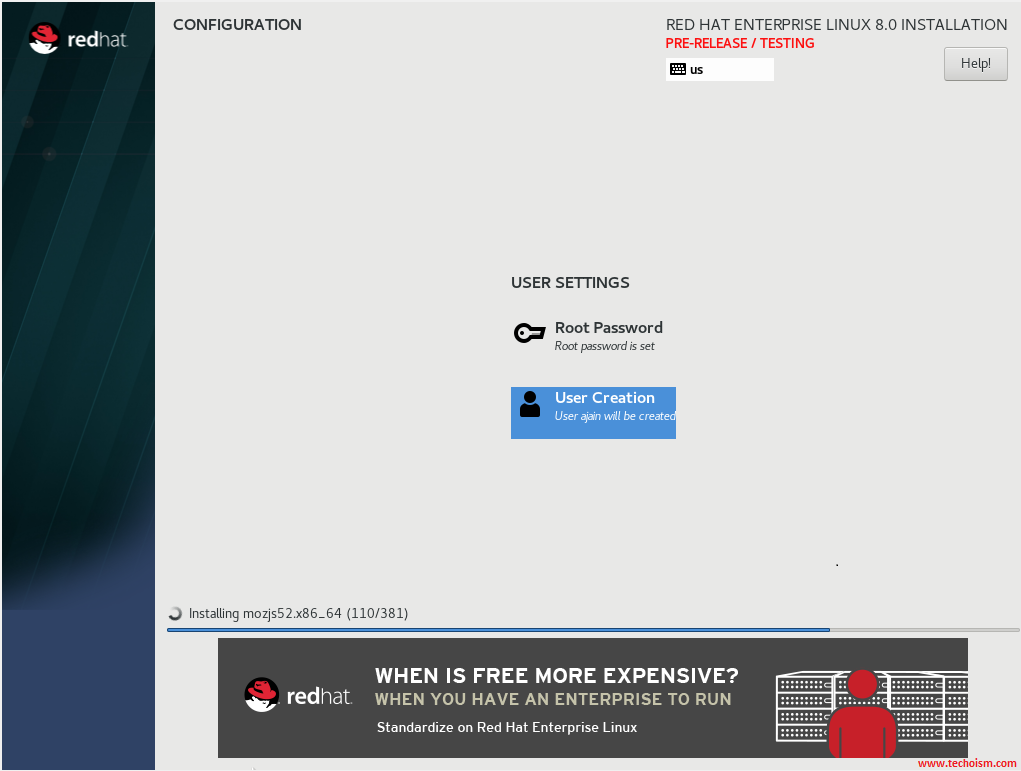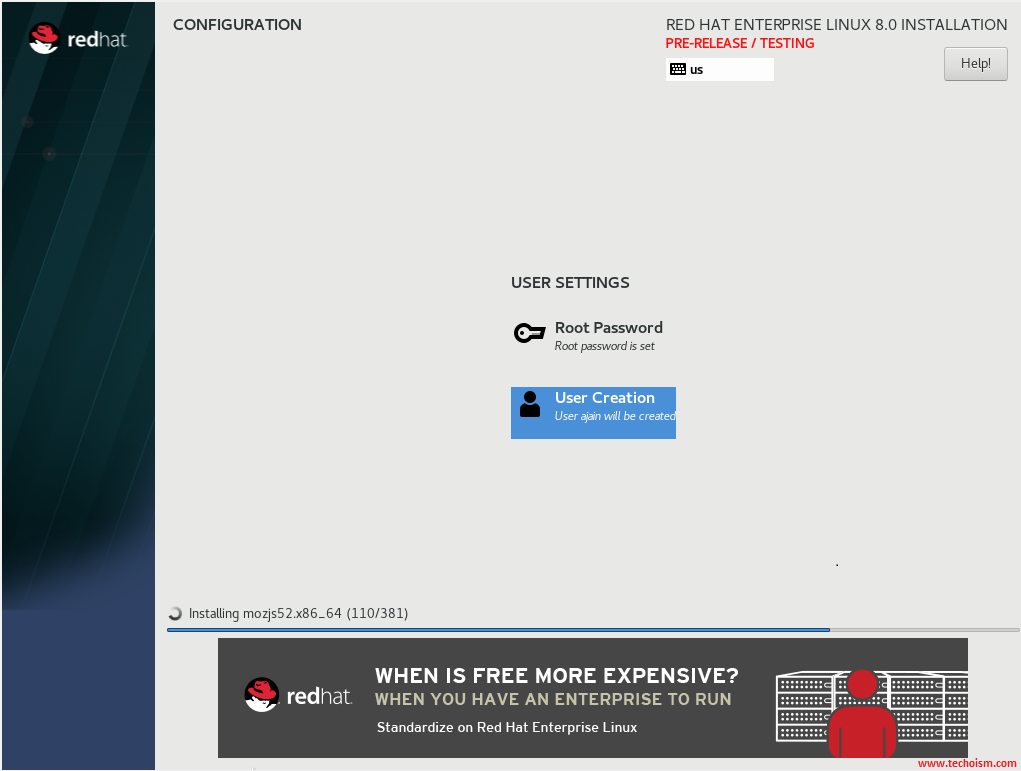 After the installation get complete reboot the machine.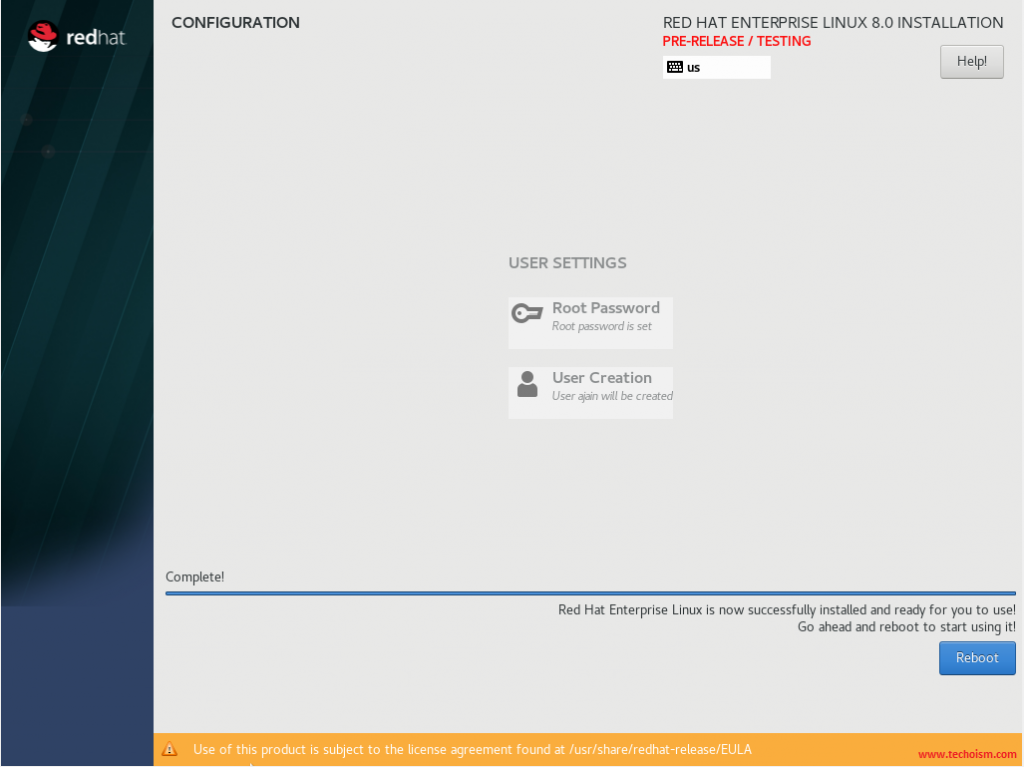 At this point you have completed the installation of RHEL 8 and you can start managing your system.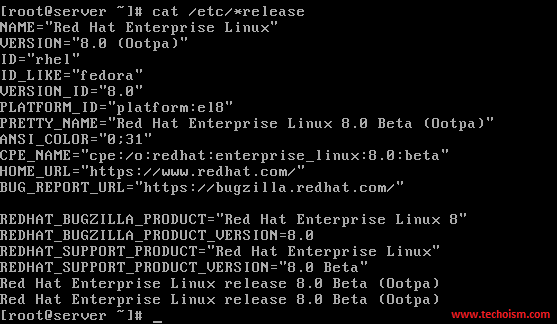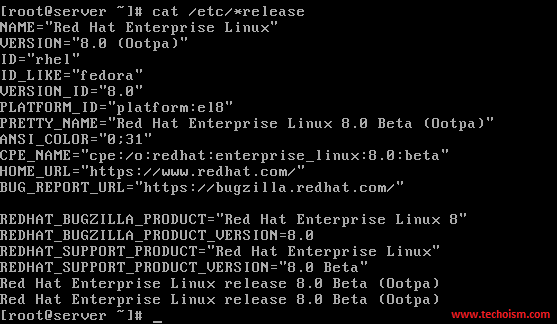 Enjoy it!